Who is the shrink?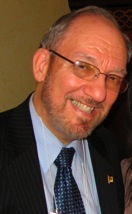 Michael Blumenfield, M.D.
He is an experienced psychiatrist with private practice in Los Angeles.
He is listed in Castle Connolly Best Doctors in America.
He is the Sidney E. Frank Distinguished Professor Emeritus of Psychiatry and Behavioral Sciences at New York Medical College.
He has published numerous papers in the field of psychiatry as well as being the author and editor of several books.
He is Past President  of the American Academy of Psychoanalysis and Dynamic Psychiatry.
He write writes blog PsychiatryTalk.com and has been a syndicated columnist for Gannett newspapers
He also is a film critic and previews new films as well as current and old movies at FilmRap.net
He has taught medical students and residents in psychiatry for many years.
He is a consultant for the news media and various film and television projects.
For more information about Dr. Blumenfield see mblumenfieldmd.com.